India Vision Institute: The 2nd IVI International Optometry Conference – Eye Health in a Changing World, powered by EssilorLuxottica
September 10, 2021

-

September 11, 2021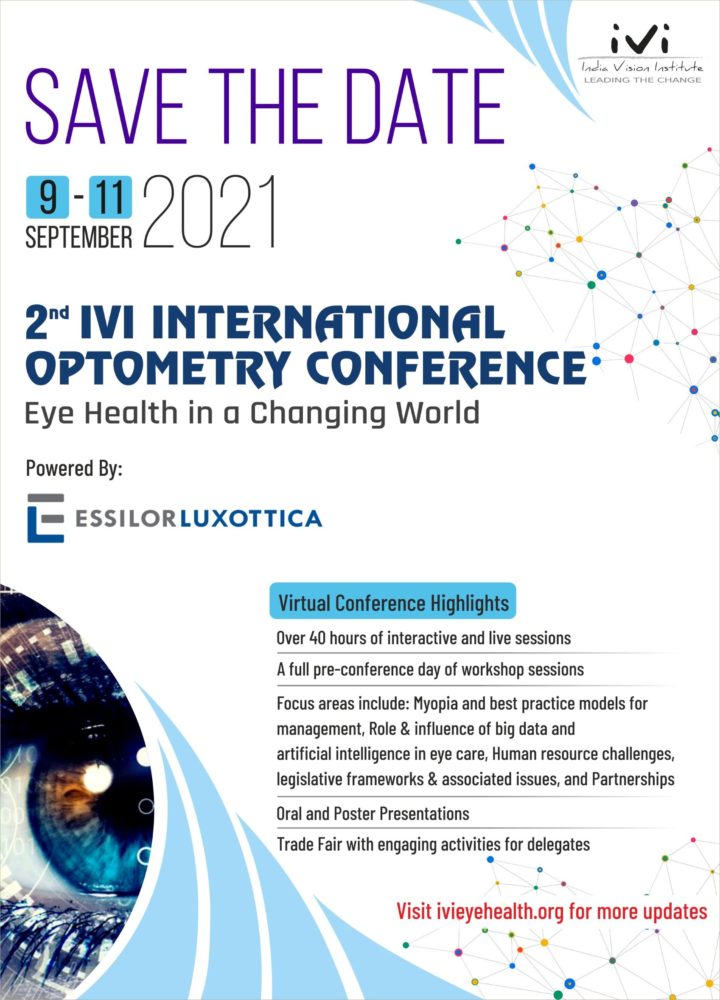 Among other topics, the 2nd IVI International Optometry Conference will focus on myopia – best practice models for its management, the role and influence of big data and artificial intelligence in eye care, human resource challenges, legislative frameworks & associated issues, and partnerships.
The pre-conference day, on September 9, will have multiple closed group discussions on specialty topics, with dedicated sessions for students, educators and practitioners all through the day.
The main days of the conference (September 10 & 11) will have a plenary session, involving keynote talks by some of the world's best thought leaders in eye health, and parallel tracks will cover topics from all domains of eye health, including academia, research, industry, and clinical practice, through panel discussions, invited talks, paper, and poster presentations.
Visit ivieyehealth.org to know more about the event.
To register for the conference, go to ivieyehealth.org/register-now.php.
To submit your abstracts, go to ivieyehealth.org/abstract.php.
If your abstract gets selected:
You will get an excellent opportunity to present your research or case study in front of a global audience of several thousand eye care professionals

Your presentation will be part of the conference preprints.

First authors of abstracts will be eligible for free registrations.

One best submission under the research, case study, and poster category will win prizes.
Last date for abstract submission: 31 July 2021 before 23:59 hours IST.
Notification of abstract acceptance or rejection will be sent to your registered email by Saturday, 21 August 2021.
For any queries on the conference, write to info@indiavisioninstitute.org or call +91 – 8610865108.