Please join us in congratulating former WCO President, Prof. George Woo, on receiving the Hong Kong Humanity Award 2020!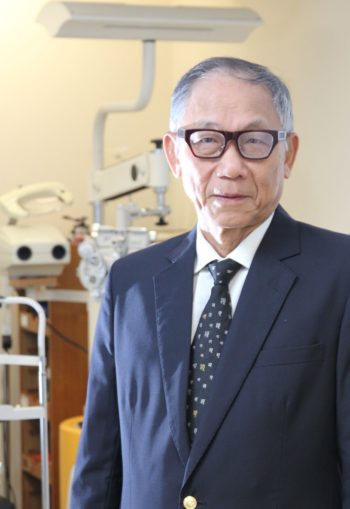 From the Hong Kong Polytechnic University:
The award is bestowed upon individuals who have made outstanding humanitarian contributions in three core areas: protection of human life, care for the health of the vulnerable and respect for human dignity. Inspired by his experience as an optometrist, Prof. Woo has been serving The Samaritans for nearly two decades. His impressive devotion to helping people in emotional distress is recognised by this award.
Treating invisible wounds with compassion and understanding
Prof. Woo is the father of optometry in Hong Kong. With his extensive clinical and research experience in optometry in Canada, he founded the then Department of Diagnostic Sciences at the then Hong Kong Polytechnic (now The Hong Kong Polytechnic University) to promote the development of optometry in Hong Kong. In addition to treating patients who have lost much of their eyesight, Prof. Woo also wishes to cure wounds invisible to the eye. "An anaesthesiologist lost his vision because of diabetes. He told me he wanted to commit suicide. I spent a lot of time talking to him and comforting him during this immensely challenging phase of his life. Ultimately, he abandoned the idea of killing himself," recalls Prof. Woo. Since then, he has aspired to provide support to other emotionally distressed people.
Listening to those in need with empathy and patience
Every month, Prof. Woo takes off his white coat and metaphorical hat as an optometrist, goes to The Samaritans centre and answers calls as a hotline volunteer, something he has been doing for the past 18 years. Hotline volunteers do not judge the callers or their thoughts; they listen to their concerns with empathy and patience. "Most of them calm down after venting their frustrations to us. If we can provide timely support to people with suicidal thoughts, we may have a chance to save their lives," Prof. Woo explained. Indeed, many years ago, a colleague of Prof. Woo's and her husband committed suicide due to her pain and suffering from cancer. The tragedy was a personal reminder about the importance of timely support. In 2015, Prof. Woo became the chairman of the Board of Directors of The Samaritans. He supported the development of the organisation, including setting up services for the elderly and young people. He hopes that The Samaritans' services can continue to be enhanced to help save more lives.
To read more, please visit the Hong Kong Polytechnic University website.