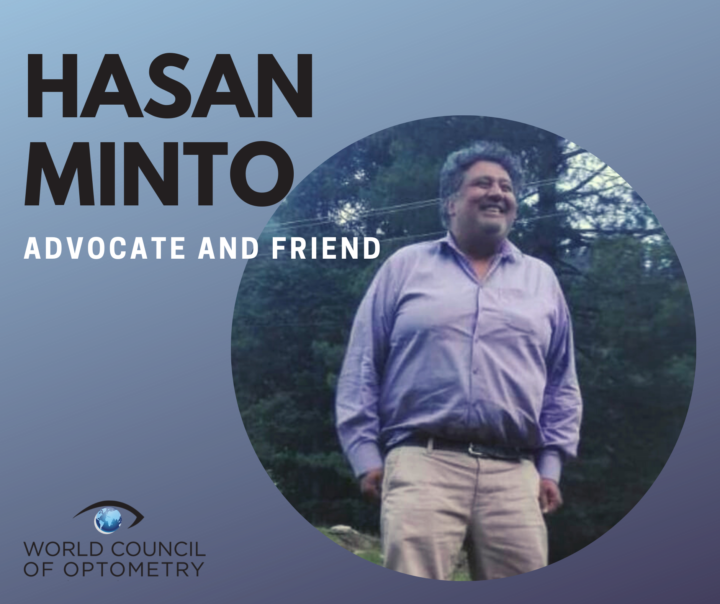 The international eye care community has lost one of our best. Hasan Minto was a larger-than-life character that left an indelible mark on the Blindness Prevention space. His intellect, humility and caring personality as well as occasional crazy but humorous antics endeared him to people across the globe. The outpouring of grief on the event of his passing bears testimony to the amazing person Hasan Minto was.
Hasan was born in Pakistan but was a son of the world. No geographical, language, religious or political barriers could keep him from working in the interests of all the poor, disadvantaged and marginalized in our world. His over 30 year career in International development, particularly eye health and social inclusion started in 1991 at the Al-Shifa Eye Hospital in Rawalpindi, Pakistan. Hasan was catapulted into the international stage by the opportunity that Sightsavers offered him in 1998. As Program Development Advisor, his skills were deployed to support programs across the world particularly in the areas of refractive errors, child eye health, low vision and optometry development. He also engaged in research in low vision with a focus on developing quality affordable options for low vision patients who could not afford the prohibitive costs of low vision aids. This highly vulnerable population benefitted significantly from Hasan's expertise and the crowning moment for him and his colleagues was the creation of a Low Vision Resource Center in collaboration with the Hong Kong Society for the Blind. This was one of the most disruptive efforts in low vision as it significantly lowered the cost but kept the quality of the low vision aids high.
In 2011, Hasan joined the Brien Holden Vision Institute Foundation as Program Director for South East Asia and the Eastern Mediterranean. He together with Sumrana Yasmin built this to one of the most effective regions in the organization. In 2013, he was appointed Global Director Sustainable Development and guided and managed the global program development for Vision Centers, Social Franchise, Low Vision, Child Eye Health, and Supply Chain. In 2016, Hasan was appointed as Program Director for Child Eye Health and Low Vision as well as the Global Programs Director of Our Children's Vision Campaign. Hasan led the team to reach out to and screen 40 million children in 3 and a half years; dispensing 2.5 million spectacles, through 100 partners in more than 70 countries. The campaign's objective was to reach out to 50 million children, globally, in 5 years. Hasan managed relationships with partners in the most diplomatic and inclusive manner. His leadership and compassion were  the key ingredients for the success of this program.  He was appointed as a Visiting Researcher at the School of Optometry, University of California, Berkeley in 2020 and was about to start the next chapter in his life in July 2021 as Director of Programs for Berkeley Vision CURE (Childrens' Uncorrected Refractive Error).
In his roles, Hasan was a consummate mentor. He took great pride in developing others and sharing his knowledge. Through association with the International Center for Eye Health (ICEH) at the London School of Tropical Hygiene and Medicine, Pakistan Institute of Community Ophthalmology, Isra School of Optometry, College of Ophthalmology and Allied Vision Sciences, Pakistan, and training and development activities around the world, he trained eye health professionals from more than 90 countries, in low vision, child eye health and refractive errors. He made low vision simple and effective and all those he taught/mentored have benefitted enormously from him. His legacy lives on in the contributions that they will make across the globe.
Hasan was professionally associated with, and a member of various working groups of World Health Organization (WHO),  International Agency for the Prevention of Blindness (IAPB) and World Council of Optometry (WCO). Formerly, he served on as a Regional Representative on the WCO Board of Directors and on the Public Health Committee.  He was currently the co-chair of the IAPB School Eye Health Work Group, and member of the Refractive Error and Low Vision Work Groups. He was also leading the WHO task force to develop the tools for technical assessment of refractive services. These are just some of the key positions he occupied. Hasan's contributions are too vast to capture adequately.
Hasan will be missed by friends and colleagues around the world. He is survived by his wife Samita and children Misha, Diva and Anam.  Hasan was so very proud of his family and often spoke about how proud he was of the young women his daughters have grown up to be. We send them our condolences, love and support and hope they can draw strength from the fact that thousands of people across the world share in their grief.
Go Well Hasan. You will always live in the hearts of people who love you immensely. Your time on this earth was well spent.
Obituary by Prof. Kovin Naidoo