The World Council of Optometry is pleased to announce that our 2022 Advocacy and Leadership Course, Looking Towards the Future: Optometry Program in Advocacy and Leadership (OPAL), will be held from August 1 – October 17 this year. 
The goals of this course are to equip the course participants with knowledge and skills to lead the profession forward through advocacy, public health initiatives, and leadership within the health care sector while at the same time supporting the WCO strategic plan.
This year's program will be delivered online with an expected time commitment of around 3-5 hours per week for 12 weeks. We are looking to have a class of 18 candidates. Applications to take advantage of this no-cost member benefit must be submitted no later than May 31, 2022, 11:59 p.m. CDT.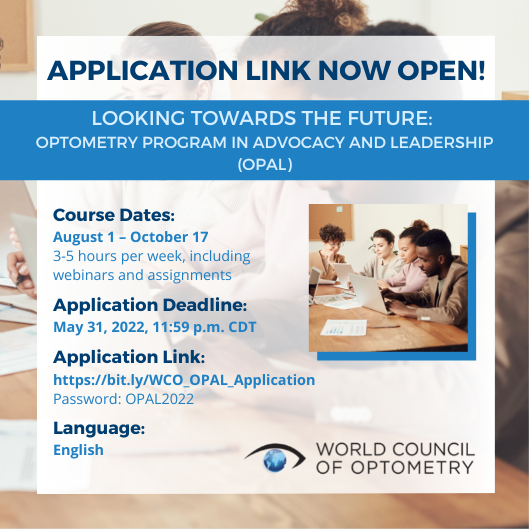 Link To Apply: https://bit.ly/WCO_OPAL_Application

Password: OPAL2022
Past participants have praised the course as helpful and beneficial in advocating for our profession. WCO looks forward to another successful year of training the advocates and leaders of tomorrow!