World Optometry Week (March 21-25) highlights how the optometry community works towards enhancing vision and eye health world wide, thus improving not only health, but also social, economic and employment outcomes for society. See how some of our WCO member organizations celebrated World Optometry Week and World Optometry Day (March 23) below.
Indian Optometric Association (IOA)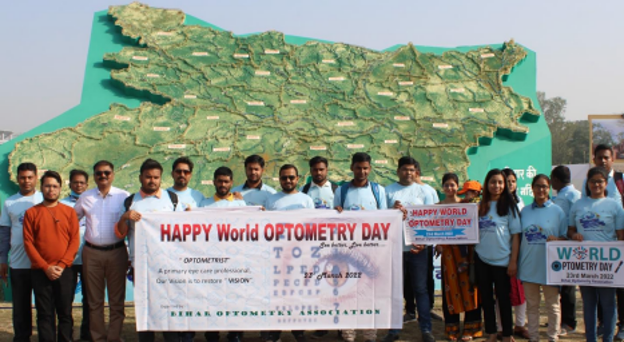 World Optometry Day is a day to celebrate the global community of optometrists and all the eye care professionals that support the ophthalmic health and wellbeing of many millions of patients.
This year, 23 March 2022, the Indian Optometric Association (IOA) conducted several eye camps across the country and launched their Bihar Chapter of Association and conducted free eye screening to over 1000 people in rural areas of Bihar.
This is the first year IOA has celebrated World Optometry Day since the National Commission for Allied and Healthcare Professions Bill has been enacted in India. Finally, optometry is a recognized and regulated profession.
IOA also created a video for awareness of the optometry profession, addressed by Asst. Prof. Peter Hendicott, President, World Council of Optometry. Peter recognized that WOD highlights the role of optometrists as primary eye care practitioners managing vision problems and how vision problems negatively impacts education and achievements, reduce employability, and decrease productivity and reduce social outcomes. He also emphasized getting ones eyes tested by qualified optometrists regularly to maintain good vision and detect vision problems early to reduce impact. 
Dr. Rajeev Prasad, Secretary, IOA, Vice President, APCO, and member of the WCO Board of Directors addressed students and faculty at Department of Optometry, Public Health Institute, Patna. He expressed that optometry is a blessed profession and gives opportunity to deal with the most complex part of body that is our eyes. He too emphasized getting eyes tested by certified and qualified optometrists. 
Yogita Rajgandhi, MD, Rajgandhi Eye Care Institute, and Jt. Secretary, Indian Optometric Association also participated in Women in Optometry organized by TSNA.
India Vision Institute (IVI)
The India Vision Institute (IVI) declared a new Vision and Road Safety program on World Optometry Day, 23 March, involving vision screening 5,000 commercial vehicle drivers in Greater Chennai.  In addition we did five outreach camps for commercial vehicle drivers in the states of Kerala and Karnataka. IVI also resumed its school screening post COVID-19 in association with Karunya Institute of Technology and Sciences (KITS), Coimbatore.

Optometric Association of the Philippines (OAP)
The Optometric Association of the Philippines (OAP) celebrated the World Optometry Day with a webinar on 22 March 2022 titled "Four Steps In Clinical Myopia Management" by Dr. Kate Gifford, a co-founder of Myopia Profile, Pty Ltd, and the chair and lead author of the International Myopia Institute's Clinical Management Guidelines Committee. It is OAP's goal to include myopia management as a standard care in optometric practice in the Philippines.
Optometrists Association of Uganda (OAU)
The Optometrists Association of Uganda (OAU) celebrated World Optometry Day by planning activities for the whole week. The Optometry Week activities focused on educating optometrists and students on the latest developments in myopia management. The Myopia Control Webinar Series, which included a variety of topics to create awareness about myopia management and control, was held from 21-25 March 2022. The series were attended by over thirty participants. These included Optometrists, Assistant Optometrists and Optometry students from Makerere University. The sessions were chaired by Dr. Naomi Nsubuga on behalf of the OAU Education Committee.
Optometry Council of India (OCI)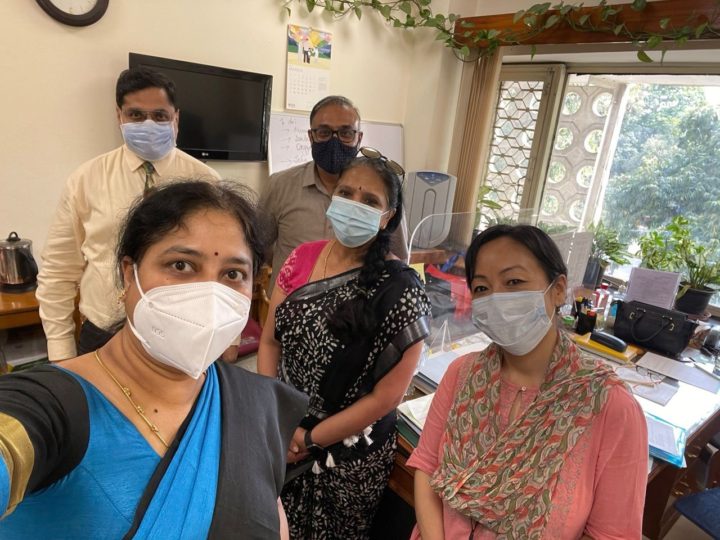 March 23, World Optometry Day, was a remarkable day as far as Indian optometry is concerned. A delegation from the Optometry Council of India (OCI) met joint secretaries in the Indian government who are members of the interim commission formed for enactment of the NCAHP act. The OCI delegation met with 3 members of the interim commission, including the secretary of the interim commission and submitted our recommendations. We submitted recommendations which have been put together under the aegis of OCI, but with input from all state associations.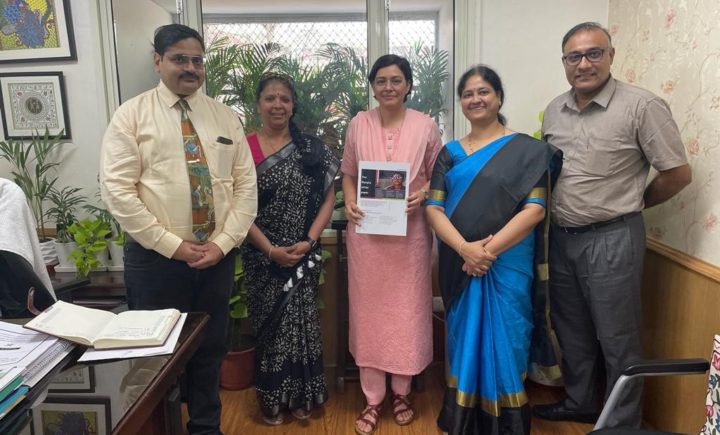 In addition to the above, the Myopia task force of OCI was invited by the Ministry of Education to present regarding Myopia. OCI did present to the ministry (pictured below) and spoke to them about the concerns of children's eye health. The ministry is very keen to collaborate with optometrists regarding this.
Sri Lanka Optometric Association (SLOA)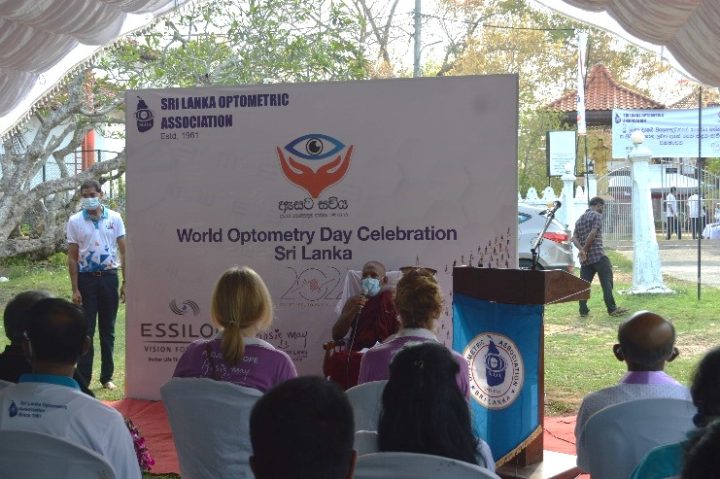 On the occasion of World Optometry Day, the Sri Lanka Optometric Association (SLOA) organized a program called 'Asata Saviya Daye Neth Padana Jathika Mehewara' which will be operational from this year and its first program was successfully held on March 23 in Southern Province, Seenigama Thelwatta area.
The main objective was to educate the community about the visual impairment and its function and to provide free spectacles to 1000 people. About 1300 registered for this program and 923 qualified for spectacles. In addition, 96 people registered for cataract surgeries and another 114 were referred to the Regional Hospital for treatment for other eye ailments. Individuals who participated in the program were tested across 11 divisions: Vision screening, Auto-refraction, subjective Refraction, Slit lamp bio microscope, Eye pressure test, Low vision unit, Orthoptic unit, Contact lens unit, Counseling and Dispensing unit among others.
Essilor Vision Academy (EVA) is contributing to the supply of spectacle lenses for 1000 spectacles while the spectacle frames are being provided by Brian Holden Vision Institute. About 150 members of the Sri Lanka Optometric Association participated in the success of this massive program. All arrangements have been made for the distribution of spectacles on May 22.